Inter RAO and GE to ramp up partnership for localization of production and servicing of power generating equipment in Russia
10.09.2020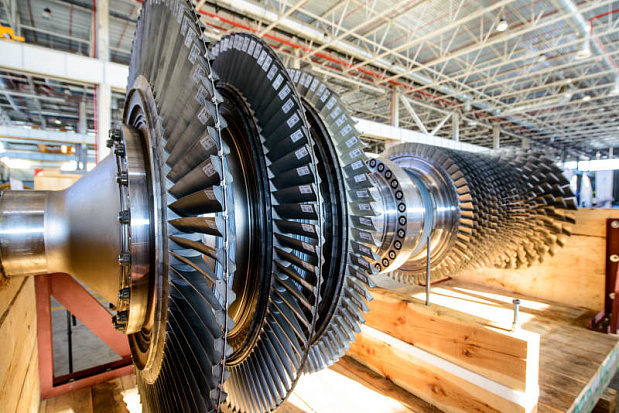 Inter RAO Group and General Electric have signed a number of agreements on development of corporate partnership aimed at ramp-up of localization of production and servicing of heavy-duty gas turbines in Russia. The agreements provide for significant increase in local expertise, including the transfer of relevant technologies and diversification of Russian Gas Turbines Limited Liability Company (RGT LLC), the joint venture of Inter RAO and GE, being a center of excellence and the main production site for setting up local production of GE gas turbine equipment in the region.
The companies intend to proceed with localization of gas turbines in Russia under GE license. To comply with the requirements for participation in the state investment programs for construction and/or modernization of power generating facilities (capacity supply agreements, CSA), Inter RAO and GE strive to increase the localization percentage of 6F.03 gas turbine with a unit capacity of up to 88 MW which is currently produced at the RGT Rybinsk plant to 100% and to launch local production of another GE gas turbine model – GT13E2 with a capacity of up to 210 MW. On the top of that, Inter RAO and GE intend to ensure advanced localization of competencies in terms of servicing and repair of the above gas turbine equipment.
The companies agreed to use RGT production site in Rybinsk as well as GE gas turbine service center in Kaluga (GE Energy Technology Center) as a base for further localization of production, servicing and repair of gas turbine equipment. Under the agreement, RGT will acquire the rights to manufacture, service and sell 6F.03 and GT13E2 gas turbines in Russia and in a number of export markets. GE will also provide technical support and staff training to support the development of the required local competencies.
"Extension in the range of turbines intended for localization at the Russian Gas Turbines plant will allow Inter RAO to go ahead with implementing the company's medium-term strategy recently approved by the Board of Directors in terms of developing power plant engineering as a separate major business focus," Boris KOVALCHUK, CEO of PJSC Inter RAO, told. "Moreover, it is extremely important for our joint venture to focus on gas turbines service as well, which is currently in high demand in Russia. Thus, the execution of the project with GE will play a significant role for the entire energy and power plant engineering sector of the country."
Scott STRAZIK, President and CEO of GE Gas Power, highlighted, "We are excited to develop our partnership with Inter RAO. The 6F.03 and GT13E2 provide high performance, reliability and best-in-class efficiency and will contribute to the successful implementation of the Russian power modernization program and create a more reliable, flexible and efficient power system."
For his part, Ron POLLETT, Vice President of GE, President and CEO of GE in Russia/CIS, noted, "GE has been consistently and successfully working with our strategic partner Inter RAO as part of common projects to localize advanced technologies for Russian energy. Today, we have identified the key areas of joint work at a new stage. Our efforts will be aimed at creating additional opportunities for Russian energy companies in terms of increasing the efficiency of their generating assets and for local component suppliers with their participation in the chain of the equipment production and service. The agreement reaffirms GE's commitment to a long-term development strategy in the region."
This agreement develops the history of successful cooperation between Inter RAO and GE in the implementation of the localization program for the production and service of gas turbines for the Russian energy sector. In particular, since 2014 Russian Gas Turbines Limited Liability Company, the joint venture between Inter RAO Group and GE, has been supplying its products to the Russian energy market. The company produces, sells and provides service support for 6F.03 gas turbine units (GTU) under GE license with the efficiency of more than 55% in the combined cycle. The unit features high reliability, small footprint, and the capability to operate on various types of fuel, including operation in harsh environments, which allows its application in power generation, district heating, and industrial cogeneration. There are currently more than 200 units in operation at the customer sites in more than 40 countries around the world. In Russia, over 20 units are successfully operating at power plants with a total capacity of about 2 GW.
In March 2018, witnessed by Vladimir Putin, the President of the Russian Federation, two new thermal power plants (TPPs) – Mayakovskaya and Talakhovskaya – driven by 4x6F.03 GTUs manufactured by RGT, were successfully put into operation, which provided additional 300 MW of power to the energy system of Kaliningrad region. In total, 8x6F.03 gas turbines manufactured in Rybinsk were delivered to the energy facilities of the region, including 4 units for Pregolskaya TPP, which was commissioned in March 2019.
GE GT13E2 gas turbine delivers industry-leading E-Class efficiency in terms of power and performance, along with a more flexible and longer service plan to reduce operating costs and fuel consumption. GT13E2 unit generates up to 210 MW of power with over 55% of efficiency in combined cycle. The model provides a choice between two modes of operation: either optimal performance or extended overhaul intervals. This option allows the utilities to respond flexibly to fluctuations in electricity demand, providing them with potential cost savings. The global fleet of GT13E2 turbines amounts to over 150 units with more than 10 million total operating hours (66 thousand starts). The GT13E2 is a proven technology for heavy-duty power plants.